March 21st, 2016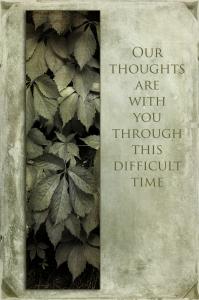 Several times during life we meet people who have lost someone they love. Their pain is on their outside and on their faces, and we want to say some words of comfort. It's hard to know what to say in situations like these. We can feel their pain and loss, but the words are missing. What do you do then?

CONDOLENCES!
A woman I know refuses to take the word in her mouth. "It's too cold and impersonal," she says. "When I meet someone who has lost a dear one I give them a hug and ask how they are," she continues.

When I think about it I somewhat agree that it is perhaps a little inadequate. We wish to say more, and we want to say the right words and express genuine compassion. With a short "condolences" you have done just that, and it's better than nothing, but sometimes it can feel a bit insensitive and neutral. I like the sound of "I'm so sorry for your loss" a lot better. However, in spite of this sentence being milder and more personal, even these words get stuck in the throat.

WHAT EXACTLY DOES THE WORD "CONDOLENCES" MEAN?
Condolences comes from the Late Latin word condole which means "to feel severe pain, have pain or suffer together." It means that we share the pain, and we use it to show compassion and empathy for the bereaved in the grief and loss.

A HANDSHAKE AND A HUG
A handshake and a hug say as much, and there are no "correct" words that can take away the pain. Not many words can be completely wrong either. What is important is to show the person in grief that you are there if he or she should ever need you. Grief has to be dealt with in their own way over a short or long time. Warm thoughts expressed with a hug or a condolence card with pre-printed text is a nice way to show compassion.

OTHER WAYS OF SHOWING SYMPATHY
Here are some more suggestions for what to say or to write on a pretty card:

- Our deepest sympathy.
- We want you to know that our thoughts are with you.
- Compassion and concern in this difficult time.
- Words are insufficient, but we are thinking of you.
- Thinking of you!
- We share the sorrow with you.
- Our thoughts are with you.
- We send you warm thoughts
- Our thoughts are with you. May you find comfort and strength in the good memories.
- We are with you in your grief.
- We mourn with you.