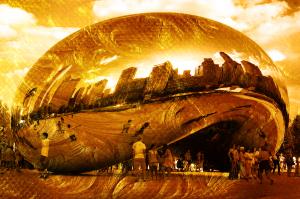 I love to travel! What better way of developing the creative eye is there? New places, different people, different landscapes and inspiration everywhere you look. I see only one problem: I get to the right places, but not at the right time!

I go to Central Park, NY in the summer when I actually have an image in my head with one of the beautiful benches covered in snow. I go to Niagara Falls in the summer and go home with an untaken photo of the falls in the winter.

I've seen stunning photos of West Virginia fall foliage, but went there myself when everything was green. Nothing wrong with West Virginia in the summer, the beauty can take your breath away at any time of the year, but I want to do MY thing with the autumn colors!

I've seen the Cloud Gate Monument in Chicago on a bright sunny day, and I got my photos. Now I keep wondering what it would look like in the rain!

Grand Canyon is a chapter of its own. I was in awe long before I got out of the car. The Skywalk was incredible. Overlooking the Grand Canyon is the most amazing thing I've ever done, but still………..

I want more! I want to see the sun rise and set. I want to be there when the colors are showing off at their best. And where the heck is Antelope Canyon??

As a tourist you may be happy when you can say that you've been there. You have proof from a snapshot of yourself with the landmark or famous building in the background.

Traveling as a photographer's is slightly different; There's no "been there, done that" if you're a photographer. You have to BE THERE AND DO THAT" for a long time to be completely satisfied.

Seeing beauty just gives you an appetite for more. You wish to go back to complete what your creative mind demands of you, and that's the photographer's dilemma!