April 6th, 2013
Are you offended if you see a copy of your own idea? Is it ok for other people to steal your ideas?

Of course it is! If youíre guilty of inspiring others you have it coming, and you should be proud that someone else values your work so much itís worth living up to. Copying other artistsí work has been done for ages. Painters have always done it. Musicians do it all the time. But, they will never become the original. Many guitar players can play the guitar just as good as Jimi Hendrix, but nobody plays Jimi Hendrix like Jimi Hendrix!

Your work is always you work, but if someone adds something good to it, you can learn from it, and if they make your idea look bad, youíre better than them.

Someone once copied a wedding photo I had taken, fixed it, signed it and gave it to the bride and groom as a present. At first I thought boy, has he got the nerve! Putting his name on MY photo?! Then after a closer look at the image I thought: Thank goodness he put his name on it. Coz thereís no way I would want my name on that horrible excuse of a wedding picture. He had totally destroyed it, softening the edges and cropping it in a way that left the coupleís hands floating with no arms attached.

I see photos here on the FAA all the time that I wish I had taken myself. All I can do is learn from them and try to add something that comes from within my own heart and creativity.

Learn from the masters and be a master! Also try to give some credit to the ones who made the art that inspired you. You would like that yourself, wouldnít you?

PS: I have a confession to make: This photo was very much inspired by someone here on FAA: Bill Cannon. Thanks for inspiring me!

http://fineartamerica.com/featured/rock-and-roll-woman-bill-cannon.html

March 31st, 2013
Come on, youíve all been there! You gather your gear and get out there with your mind full of brilliant ideas about a stunning image whether itís a painting or a photograph. When you get to the spot of your choice, itís just not what you were expecting. The place is crowded with people, the swans have disappeared, the sun shines too brightly or it doesnít shine at all.

What do you do now? Pack up your gear and go home to sulk? Yeah, thatís one option. Another option is to take the day off, give your brain a break and enjoy life. Close your eyes and feel the wind touching your hair. Maybe thatís what you need to get inspired.

Or, you can give yourself a challenge! Donít leave until you have taken 100 photos! If youíre not a photographer, make some sketches! Erase the image in your head and look around! There are thousands of photo objects everywhere you go, but sometimes it takes a little more work to see them.

I once took one of Darlene Hildebrandtís challenges (http://www.herviewphotography.com) and locked myself in the bathroom with my camera and only one lens. I didnít come out until I had taken 100 shots. I started off with more or less lousy snapshots as my creativity first kicked in after about 40 shots. After 100 images my shoulders were aching, but the photos had improved tremendously, so I had enough decent images to work with. I cropped some of them and put the best ones together in this collage.

See? Challenge your creativity and youíll get results. Good luck to you!

March 31st, 2013
Once upon a time I browsed through a glossy magazine looking at some photos. The magazine was an old issue of National Geographic handed down from a neighbor. My attention was drawn to a photo of a big red apple hanging from a tree. The photo was obviously taken in late fall or early winter as the apple was partly covered in snow. I was in awe from the beauty of something I in my young age never thought could happen. An apple with snow on it! I think this moment of discovering unknown beauty was significant for my arising interest in photography.
My cousin who was a year older than me, bought her first camera with money she got for her confirmation, and I could hardly wait for my own confirmation. I knew exactly what to buy when it was my turn. Meanwhile I continued looking at the photos in the magazines our neighbor gave us dreaming of my turn to bring some great images into the world. I was 15 when I could afford my own point-and-shoot camera with 110-film.
The good photos didnít come overnight, but I continued producing as many snapshots I could afford to have developed at the photo store. I kept in my heart the dream of taking perfect pictures like the one with the apple, but when I uttered my dream to others they told me how difficult this was and that I would need heaps of camera gear. In other words this would be almost impossible to accomplish. How I wish they would have had the knowledge to tell me what I have learned over the years: It is not the camera that makes the photo, itís the person behind the camera! Know the cameraís limitations and youíre good to go. You get as good as you want to be. You can become whatever you want if you want it enough. Now tell your kids that!
It has to be said that I never became a National Geographic photographer, but I still remember the picture of the apple, and I do know how to take a similar photo. All I need is an apple and some snow!

March 31st, 2013
I remember the first decent photo I took. I mean the first photo you could actually tell the content of. It was a picture of my brother. He was about one year old and sitting in his stroller waving at me. I was nine. We were in Workington, England visiting my grandparents, and someone gave me a small camera and some film.

On this journey I learned more than not to shake my camera while shooting. This was in 1970 and old England was struggling. Jobs were scarce, and there was not a lot of money on peopleís hands. Still there was this urge to take care of each other and help each other out.

My grandma took me to the market to buy vegetables. She introduced me to a man who sold eggs from a booth. He used to know my mother when she lived there. His sad face brightened up when he was told that I was her daughter, and he gave me two eggs. I got the impression that he used to have a crush on my mom. It seemed important to him to give me something, just any odd thing he could afford to give away.

Further down the line of market booths my grandma met another friend trying to sell her goods, and she gave me two tomatoes, one for me and one for my brother. I had never received gifts like these before, but they taught me something about helping each other and caring even when youíre struggling in a fight of your own.

I still have the photo of my brother in his stroller (Iíll post it when I find it), and it always reminds me of this strong memory from the trip to England. If I knew how, I would paint a picture of the woman handing a little girl two tomatoes from her booth . Unfortunately I am not a painter, I will have to settle with the image that occurs in my mind when looking at a totally different picture.

March 31st, 2013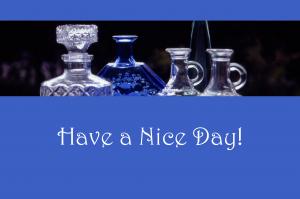 Iím in a creative mood today. My mind is halfway into this blog post and halfway into new ideas for a photo shoot. This affects what I should be doing; concentrating on the cupcakes Iím making for my daughterís 21st birthday. They do not turn out the way I want them to because of my lack of focus.

A creative mind does that to you sometimes. Kicks in when you donít have the time to dive into your fantasy world of creativity, and before you know it youíve lost a great idea. Keep a notebook people, and keep it close to you at all times! Write down a few words about your ideas and use this for inspiration on that day when the absence of ideas strike you with that scary empty mind from artistís block.

The keywords I wrote down today are:

BUTTONS Ė I need to do something on buttons.

WHAT IS A GOOD PHOTO? Ė New blog post